Maps to the 2004 GPNDG
Set your GPS target to roughly: N 47° 238.58 — W 120° 12.90'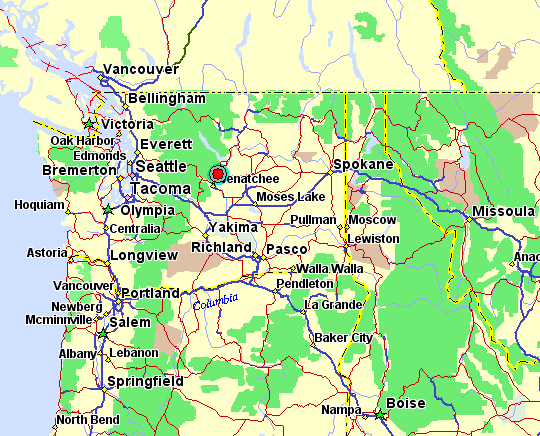 In the above map of the Pacific NorthWet, the red circle near the center of the map
shows the approximate location of the 13th GPNDG.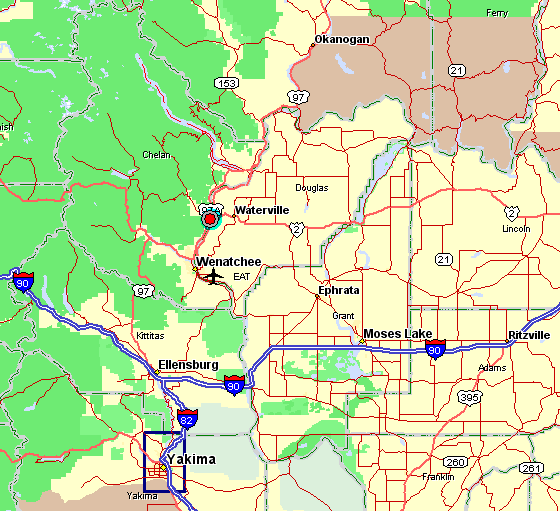 The above map shows the major highways you might take to get there.
I-90, US-2, US-97 and I-82.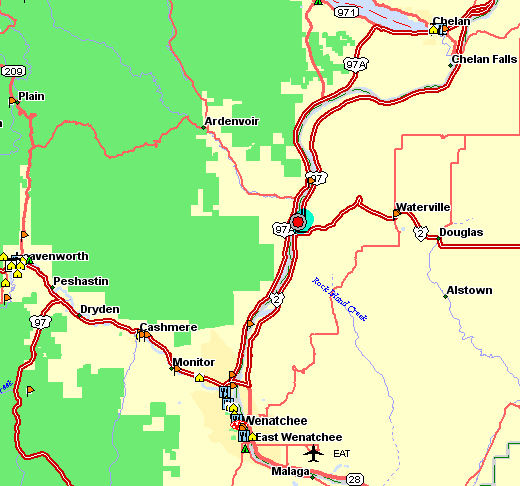 The final map above shows you the site, on the east side of the Columbia River, just about 2 miles north of where Hwy 2 branches off to the east. The nearest "town" (not shown on this map) is Orondo, Washington. Daroga State Park is 6 miles north of Orondo.
---
Distances from various cities:
| | |
| --- | --- |
| 186 miles — | Spokane, WA |
| 160 miles — | Seattle, WA |
| 286 miles — | Portland, OR (the shortest route, not the quickest) |
| 336 miles — | Bend, OR |
| 394 miles — | Eugene, OR (the shortest route, not the quickest) |
| 473 miles — | Klamath Falls, OR |
| 534 miles — | Weed, CA (the shortest route, not the quickest) |
| 804 miles — | Reno, NV |
| 991 miles — | San Jose, CA(quickest, I-5 &amp I-90) |
| 848 miles — | San Jose, CA(shortest, I-5 & US-97) |
| 1,226 miles — | Escondido, CA(via US-395) |
| 1,953 miles — | Arlington Hts, IL |
| 2,327 miles — | Columbus, OH |